CIC Webinar on BIM – R&D Fund (BIM-related) Series: BIM-based Rebar Design Optimisation and Prefabrication Automation – Methodology and Demonstration

Apply Now
Date:
28 Apr 2021 (Wed)
Time:
16:00 - 17:00
Language:

English
Fee:
Free of Charge
Format:
Webinar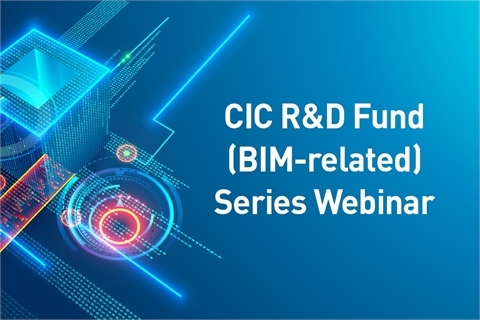 Innovation is of great importance to the sustainable development of the Hong Kong construction industry, Hence, the Construction Industry Council (CIC) has set up the Research and Technology Development Fund to provide financial support for research projects which can improve the performance and competitiveness of the industry.


"BIM-based Rebar Design Optimisation and Prefabrication Automation" is one of the research projects funded by CIC and conducted by the Department of Civil and Environment Engineering of The Hong Kong University of Science and Technology (HKUST).


The objectives of the research project are to:
Develop an innovative optimisation approach for automated clash-free steel reinforcement design and to generate the three dimensional rebar BIM model, and
Develop an automated BIM-based framework to generate the rebar detailing drawings and factory machine codes for rebar prefabrication.


The following items will be presented in the webinar:
Methodology Development
Demonstration of Results and Developed Plugins: (1) Rebar design optimisation of RC components, (2) Automatic rebar clash avoidance, and (3) Semi-automatic generation of drawings and BVBS rebar prefabrication codes
Conclusions


We are delighted and honored to have Prof. Jack CHENG and Mr. Billy WONG as our guest speakers. They will share the methodology, results and the deliverables of the project in this webinar.


Speakers:
Prof. Jack CHENG, Associate Professor, Director of BIM Lab and Associate Director of GREAT Smart Cities Institute, HKUST
Mr. Billy WONG, Research Assistant, Department of Civil and Environment Engineering, HKUST
Should you have any queries, please contact Ms. Ella POON (email: bim@cic.hk.; tel: 2100 9053).
Remarks: An electronic copy of CPD attendance certificate will be issued to participants with over 80% attendance within one month after the live webinar. Any attendance on replay sessions after webinar will not be considered for CPD attendance certificate.


Replay video is now exclusive for i-Club members, please click here to join i-Club.
Last Update: 2021-04-22 08:58:38