[FULL] BIM Advanced Workshop: Reality Modeling for BIM and Digital Twins
Date:   
1) 5 Oct 2021 (Tue) [Full]
2) 12 Oct 2021 (Tue) 3 Nov 2021 (Wed) [Rescheduled] [Full]
* The content of both workshops is identical      
Time:
14:30 – 17:00
Venue:   
CIC BIM Space, 29/F, Tower 2, Enterprise Square Five (MegaBox), 38 Wang Chiu Road, Kowloon Bay, Hong Kong

Language:
Cantonese (Presentation materials in English)
Capacity:
20 pax
Fee:
Free of Charge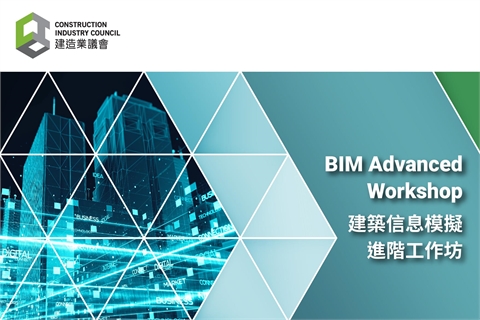 As Tropical Cyclone Warning Signal No. 8 will be issued, this event is cancelled.
Please note that all visitors must complete a health declaration form, take body temperature and wear masks before entering CIC premises. Visitors who have a body temperature higher than 37 degrees Celsius, not wearing masks, or have been to the countries/areas with outbreaks of COVID-19 in the past 14 days (Details are in accordance with the updated health quarantine announcements by Centre for Health Protection), are not allowed to enter the CIC premises. For details of the latest CHP updates, please refer to: www.chp.gov.hk 

Food and drinks (except water) are not allowed in the CIC BIM Space.
The CIC BIM Advanced Workshop aims at enhancing practitioners' BIM skill level by providing hands-on opportunities on different BIM related software. This time, we are pleased to have Bentley Systems in supporting our BIM Advanced Workshop.

Content of the workshop (Information provided by vendor):
Introduction of Reality Modeling
Photo Acquisition
User Interface of ContextCapture
Process Photos and Create 3D Model
Add Control Points to Geolocate Project
Working with Reality Model in BIM tools
Speaker:
Mr. Jimmy LAU, Senior Manager – Civil Engineering


An electronic copy of CPD attendance certificate will be issued to qualified participants after the workshop.
For registration, please send email to bimspace@cic.hk and state with your preferred workshop date, name, organisation, contact number and email address. Please feel free to contact Ms. KO at 3199 7145 for any enquiry. 

Confirmation email will be sent upon successful registration.
Last Update: 2021-11-01 15:07:24