Construction Digitalisation Webinar on "Common Data Environment – Improving Collaboration from Office to Field"

Apply Now
Date:
8 Mar 2023 (Wed)
Time: 
15:30 - 16:30
Format:
Webinar
Language:
Cantonese and English
Fee:
Free of Charge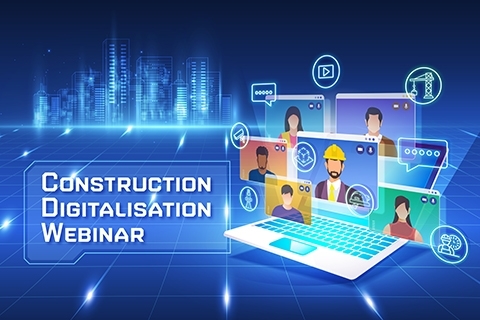 Construction Digitalisation Webinar aims at promoting the latest construction digitalisation-related information to stakeholders. Every time, we have a different theme to introduce stakeholders about the latest information or solutions in a particular area. We are glad to have the participation of Autodesk to introduce their solution in this session.
Content of the webinar (information provided by vendor):
As the construction industry embraces technology, the challenge now becomes the sheer volume of data it generates.
A study by consulting firm FMI Corporation that surveyed over 3,900 professionals across the global construction industry, shows that bad data may have cost the industry USD $1.86 trillion in 2020.
How can project teams better manage data across the construction lifecycle using a Common Data Environment (CDE)?  Find out how a centralised repository for project data can provide a single source of truth to improve efficiency and cost savings. From real-time collaboration and streamlined processes, to better data management and reduced risk of errors, a CDE is essential for connecting technologies and software from Design to Build.
During this webinar, we will illustrate:
Overview of a CDE in construction projects, including improved collaboration across office and field management
Cost Management module as part of the CDE
Some examples of implementation of a CDE in construction projects across Hong Kong and ASEAN countries
We will also showcase a technical demo that covers:
How a CDE solution connects Design to Build
Cost Management
ProEst cloud-based estimating
Roadmap of future integrations and capabilities
Join us to learn how industry leaders are changing the way construction projects operate by leveraging a CDE to integrate design and construction workflows into one data environment, and combining robust project management capabilities with simple yet powerful field collaboration tools.
Speakers: 
Mr. Sam SO, Sales Manager, Autodesk Construction Solution, HK & Macau
Mr. YUE Ying-long, Technical Solution Specialist, Autodesk Construction Solution, APAC
Should you have any inquiries, please contact Ms. Julia LI at bimspace@cic.hk.

Remarks:
An electronic copy of CPD attendance certificate will be issued to participants with over 80% attendance within one month after the live webinar. Any attendance on replay sessions after webinar will not be considered for CPD attendance certificate.
Replay video is now exclusive for i-Club members, please click here to join i-Club.
Last Update: 2023-02-27 14:14:44