[FULL] BIM Advanced Workshop: Python in Dynamo - Start from the basics
Date:   
27 May 2022 (Fri)
Time:
14:30 – 17:30
Venue:   
CIC BIM Space, 29/F, Tower 2, Enterprise Square Five (MegaBox), 38 Wang Chiu Road, Kowloon Bay, Hong Kong

Language:
Presentation in Cantonese, materials in English
Capacity:
23 pax
Fee:
Free of Charge
Format:
Face-to-Face Workshop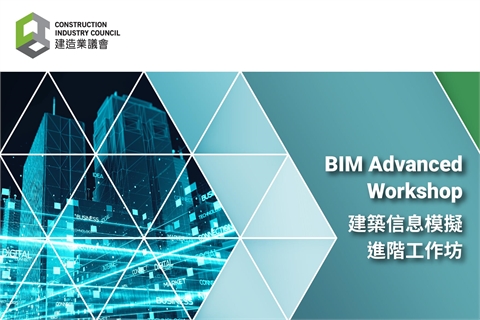 Please note that all visitors must complete a health declaration form, use the "LeaveHomeSafe" Mobile App to scan the venue QR code, take body temperature and wear masks before entering CIC premises. Visitors who have a body temperature higher than 37 degrees Celsius, not wearing masks, or have been to the countries/areas with outbreaks of COVID-19 in the past 14 days (Details are in accordance with the updated health quarantine announcements by Centre for Health Protection), are not allowed to enter the CIC premises. For details of the latest CHP updates, please refer to: www.chp.gov.hk 

Food and drinks (except water) are not allowed in the CIC BIM Space.
The CIC BIM Advanced Workshop aims at enhancing practitioners' BIM skill level by providing hands-on opportunities on different BIM-related software. This time, we are pleased to have Autodesk in supporting our BIM Advanced Workshop.



Content of the workshop (Information provided by vendor):
Learn how to use Python in Dynamo to enable more editing options than ever before. Python is one of the fastest-growing scripting languages and can be used for daily tasks in your own projects. Dynamo can let you directly input Python code into your scripts to do things regular nodes can't. This workshop will lead you through how to plan, edit, and execute your own scripts with Python for Dynamo. Learn about the essentials of setting up your own Python script, and edit geometry, sort data lists, write content to Revit software, and much more. With Python, you can unleash the potential in your projects so come and see what's possible. 
This workshop will cover:
Explain workflow between Python, Dynamo and Revit;
Python basics: variables, conditionals, operators, loops, and functions;
Customise Dynamo node by Python;
Revit and Dynamo conversions;
Python and Revit API.
Speaker:
Ms. Carol POON, Technical Manager, AEC Industry, Autodesk HK & Macau
An electronic copy of CPD attendance certificate will be issued to qualified participants after the workshop.
For registration, please send email to bimspace@cic.hk and state with your preferred workshop date, name, organisation, contact number and email address. Please feel free to contact Ms. LI at 3199 7274 for any enquiry. 
Confirmation email will be sent upon successful registration.
Last Update: 2022-05-19 13:41:02