[ Full ] BIM Advanced Workshop: Use CFD for Interior Airflow Analysis to Lower the Risk of Covid-19 Infection
Date:   
25 Oct 2021 (Mon)
Time:
14:00 – 17:30
Venue:   
CIC BIM Space, 29/F, Tower 2, Enterprise Square Five (MegaBox), 38 Wang Chiu Road, Kowloon Bay, Hong Kong

Language:
Instructor (via zoom): Mandarin
Self-learning video: Mandarin
Teaching assistants (on site): Cantonese
Capacity:
20 pax
Fee:
Free of Charge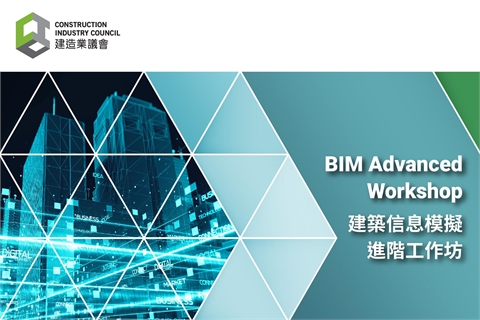 Please note that all visitors must complete a health declaration form, take body temperature and wear masks before entering CIC premises. Visitors who have a body temperature higher than 37 degrees Celsius, not wearing masks, or have been to the countries/areas with outbreaks of COVID-19 in the past 14 days (Details are in accordance with the updated health quarantine announcements by Centre for Health Protection), are not allowed to enter the CIC premises. For details of the latest CHP updates, please refer to: www.chp.gov.hk 

Food and drinks (except water) are not allowed in the CIC BIM Space.
The CIC BIM Advanced Workshop aims at enhancing practitioners' BIM skill level by providing hands-on opportunities on different BIM related software. This time, we are pleased to have Autodesk in supporting our BIM Advanced Workshop.


Content of the workshop (Information provided by vendor):
The need to re-examine the indoor air quality is crucial to prevent the virus spread and resume our normal life. With Autodesk CFD, computational fluid dynamics simulation can be used to identify areas of risk and then explore multiple mitigation strategies for occupant safety before making any physical changes to the existing setup.
This is the third of the follow up workshop after the "Fighting Covid-19 with BIM" webinar. In this workshop, we will go over the basic skills of using Autodesk CFD so that you can apply the learned skills in the indoor air quality analysis. The following topics will be included
What could Autodesk CFD do for BIMer (conducted by instructor)
Indoor Airflows/Thermal Simulation Practice using an office model. Attendees need to follow the pre-recorded video to finish the task.
External Airflow/Wind load Simulation Practice. Attendees need to follow the pre-recorded video to finish the task.
How CFD can help in Covid 19 analysis (conducted by instructor)
***We will use a new way to conduct the Autodesk CFD workshop. The instructor will give the introduction of the Autodesk CFD and you will follow the pre-recorded videos to do the practice for internal and external airflow analysis. Assistance will be provided by teaching assistants onsite and the instructor via zoom.***
Instructor:
Mr. Ge ZHU, Technical Sales Specialist, Autodesk
Teaching Assistants:
Mr. Michael CHOI, Technical Manager, Synnex Technology International (HK) Ltd
Mr. Waiky LEUNG, Sales Manager, AEC Industry, Autodesk
An electronic copy of CPD attendance certificate will be issued to qualified participants after the workshop.
For registration, please send email to bimspace@cic.hk and state with your preferred workshop date, name, organisation, contact number and email address. Please feel free to contact Ms. LI at 3199 7274 for any enquiry. 
Confirmation email will be sent upon successful registration.
Last Update: 2021-10-18 10:12:38